Mural Painting Contractor
Stephen Lewis Gilmore is a mural painting contractor located in Swindon and operating chiefly in Wiltshire UK.
An artist, specialising in landscape paintings of the Wiltshire Downs, Stephen also includes mural jobs within his artistic repertoire.
Below is an image of a 3D wall mural -
a trompe l'oeil mural which gives the impression that the flat wall is an alcove.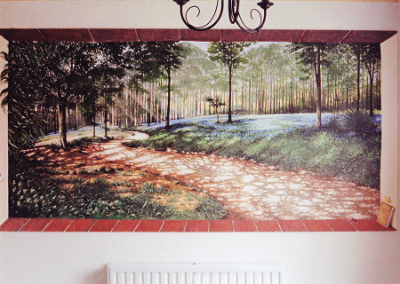 3D wall mural by Wiltshire artist, Stephen Lewis Gilmore
Click for another example of a 3D mural with before and after pictures or read on to know more about wall murals and how to commission one.

What is a mural?

By definition a mural is artwork which is painted or applied directly onto a wall, ceiling or onto another large and permanent surface. This can be an internal or external wall.

When you buy a mural you commission the artist to be on site to complete the artwork so the process is a little more complex than an art commision for a painting.
How to commission a mural
Please contact the anamorphic muralist Stephen Lewis Gilmore via his contact page with the following information about any mural jobs required:

2D or 3D mural
Do you have a specific picture in mind or do you want to commission a unique piece of art from the artist?

Your location

The dimensions of the mural job

The type of surface onto which the mural will be painted
Any access considerations. For example, there may be times when the mural painting contractor cannot have access to the property
Any questions you have about the artist's experience

The mural painting contractor will get back to you with any further questions and to provide a quote.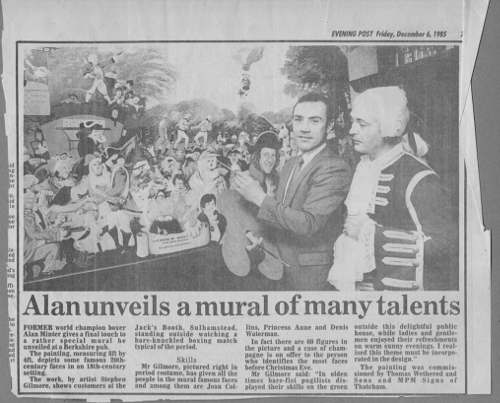 Please understand that since painting a mural has to be done on-site preference will be given to mural paintings commissioned in Wiltshire and the surrounding counties.
If the commission is further afield, travel time and any accommodation requirements will be taken into account in the quote given.
---
Wiltshire Mural Painting on Public Display

If you wish to see one of Stephen Lewis Gilmore's 2D murals on public display, visit Atlantis at the hydrotherapy pool in Swindon.
---
Move from Mural Paintings Contractor to read more about Stephen's original art.