Wiltshire Artist, Stephen Lewis Gilmore
Original Art For Sale

I am a Wiltshire artist, an English artist, based in Swindon UK. 

Please put your message in the contact box below to contact me, Stephen Lewis Gilmore, to be sent a selection of my current collection of art for sale, to request your personal art commission, or to ask any questions that would clarify your decision with regard to buying artwork. 
I am also happy to talk by phone to discuss your requirements (a UK number). 
Please leave a message if necessary and I will get back to you.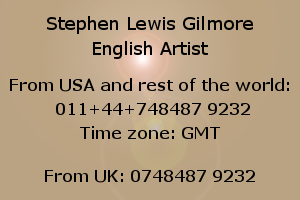 I paint in many different artistic mediums.
oil paint art
watercolour and acrylic art painting
pen and ink
engraving
tempera
portraits from photographs

mural works of art
Many of my works of art are held in private collections all over the world.
Below you will find a little information on
...What others have to say about my work

...What inspires me to paint
What Others Say...


"WILTSHIRE LIFE 2011 AWARDS

Wiltshire Life will be holding its annual awards initiative this year to celebrate the many talented people that are found in our county.

Each category has been judged by a highly distinguished panel of judges. 

I am delighted to inform you that you have won in the category of Artist/Musician of the year.
Congratulations!"

"The artwork of Stephen Lewis Gilmore is excitingly honest, and technically sound - rare these days."

Jennifer Button, Artist and author of The Haunting of Harriet

"Hi Stephen,

Hope you are well.  Just thought I'd let you know that people have been making very complimentary comments about the Bluebell Wood scene painting I commissioned.

I told them of your painting skills and other unique qualities!"

Paul Sunners, Head Teacher

At the moment, I am too busy painting to get around to including some more famous names and accolades here!
Please do feel free to ask about my art experience when you contact me.
The Artistic Inspiration for this Wiltshire Artist

I love the undulating grassy uplands of southern England.
I have painted all over this beautiful planet, but I always come back to the rolling chalk downland (where I grew up, where I was born, my home…).
There is something visually pleasing about the way chalk down hills gracefully undulate. How the paths, tracks and river valleys wind and 'snake'.
I love this Wiltshire landscape in all seasons but, most of all, I enjoy the spring and summer when wildflower meadows sparkle and cereal crops crackle in golden sunlight.
When kicked up by the wind or farm vehicles, chalk seems to act as a kind of yellow-pink 'filter', giving a light effect that I have encountered nowhere else.
I walk in grassy swards from dawn till dusk in the summer and I'm truly in paradise, one with God.
I paint because this landscape demands that I express my passion for this lovely bit of England's fair countryside.
I care about it and hope that if you like what you see here, then perhaps, you will care about it too.
Stephen Lewis Gilmore, Wiltshire Artist. 'I heart chalk' 2013. (Barbary Castle)
Move from Stephen Lewis Gilmore, Wiltshire Artist back to the home page of www.OriginalArt-Paintings.com.