Stephen Lewis Gilmore, Landscape Artist

As a prize-winning professional fine artist for the past 28 years Stephen Lewis Gilmore has exhibited his work both locally and in London, Switzerland, Canada and Sweden.
He specialises in traditional oil, acrylic and watercolour and painting techniques.
Stephen Lewis Gilmore also enjoys a reputation for being a first class specialist in pen and ink techniques and has worked as an artistic consultant to schools and colleges in Wiltshire, UK.
"…he is the best landscape painter I have seen in a long time, that is to say that he has something meaningful to say passionately through his art.

He is like how artists once were and how we should all strive to be today.
Look at this work, a true master of his chosen medium and immersively, emotionally connected to that which moves him to paint.
Stephen Lewis Gilmore is MY top name in town."  
Roger De Grey, chair of the Royal Academy of Arts Piccadilly London England
"He (SLG) reminds me of myself only 'rurally' so."
"I like him. An artist of high calibre, a painter who, like myself is never afraid to search his soul and beyond and this finds its way outward to become his painted surface. Oh yes, of course, he reminds me of myself. I like him a lot."
Carel Weight, Senior artist at the Royal Academy of Arts Picadilly London England
1...."I am absolutely convinced that you are the very reincarnation of Richard Jeffries himself! Why? because like him you love the natural world and you are at one with its constant delights and surprises. Also, like him, people tend to think you are a little 'mad' that is to say more a part of nature than most and perhaps more spirit than human. This is no bad thing for a painter to be" 
2...."The most impressive living artist showing work that fills you to overflowing with the spiritual in the countryside that  I have ever had the privilege of seeing. What an uplifting body of work."
3..."I have had the most sublime afternoon looking at the work of Stephen Lewis Gilmore. A truly uplifting exhibition of the highest quality. I highly recommend this artist, not just for investment, but for the good it will do you to see the countryside through his gifted eye."
Frank Delaney at St Martins In The Fields, London, England. 
"How clever you are Mr Gilmore. I have been out on nights just like that and I see what you have created and I just marvel at it. Something seen by you is never ordinary and once you paint it, we all can see it too. That is a real skill."
Dr David Bellamy On seeing a painting depicting a frosty ploughed field after dusk in Wiltshire England    
2..." Can I use your words and texts in my lecture this evening please? No one sees this chalk downland environment as you see it, with your artist's perception. A lesson to us all to look harder, feel more strongly and to learn ways to care for our collective heritage… "I really want to learn to paint after seeing your wonderful work" 
Dr David Bellamy
Salvador Dali, on being asked what he thought of SLG...

"I like [Stephen Lewis Gilmore's work] very much. He (SLG) is a veritable renaissance artist"
… "Geeve Meester Geelmore, mucho dollars, moneys and gold"  
Stephen didn't know Dali well, but was clearly in his address book as he was invited to Dali's funeral. He regrets not going!
Selected Achievements
of the Artist Stephen Lewis Gilmore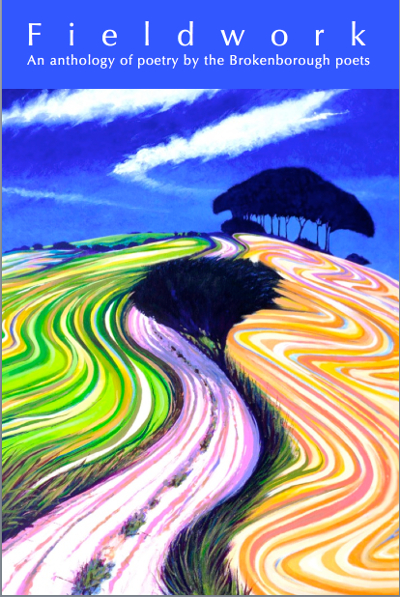 In 2016, one of Stephen Lewis Gilmore's original semi abstract landscape paintings was chosen as the book cover for the anthology of the Brokenborough poets.
The anthology includes the work of National Trust butterfly expert, Matthew Oates and editor of Imppress, John Richardson. There are also poems by Atherton Gray, Liz Carew, David Lukens, Sue Chadd (editor) and Mand Christie.
The poetry book was well received when the contributing poets featured as the guests at Bradford on Avon's Words & Ears event, chaired by Dawn Gorman.

Selected Original Art Achievements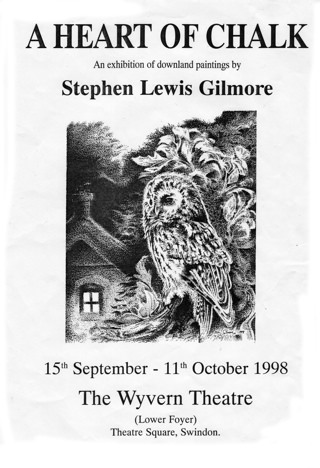 2013 Lecture to the University of the Third Age's, Faith in Modern Times group, entitled 'Heart of Chalk' about the spiritual aspect to Stephen's landscape paintings.
2012 'Hidden Paths' project. Stephen's paintings formed the backdrop to poems by poets John Richardson and Katherine T Owen, with Stephen also playing self composed guitar accompaniment. Performed at various UK venues in South West England including at the Bath Literature Poetry event.
2011 Stephen Lewis Gilmore won a Wiltshire Life Award in the category of Artist/Musician of the year.
2010-2011 Various commissions for Wiltshire Life Magazine
2009 Artist Interview on Strawberry Green TV, the `Brewerton Fringe Show`.
2003 Stephen held a retrospective of original artwork in an evening of music, poetry and art at the Swindon Arts Centre.
2003 Represented England in the `Colours Du Mond` International Art Exhibition, Avenay Val Dor, Champagne, France. Voted `Best in Show 'and made `Artist guest of honour of Avenay-Val-d'Or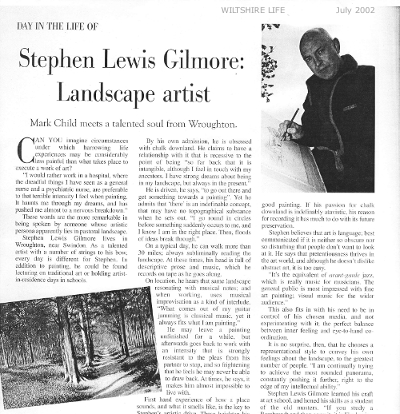 2002 Featured in an article for Wiltshire Life magazine.
2001 Maison Calder 'Marniquette' one man show – Private exhibition.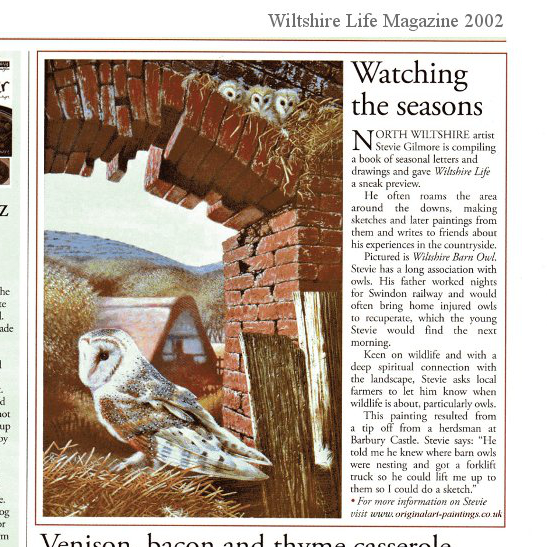 1998 One man show at the Arts Centre, Swindon – 'Heart of Chalk'
1997 Art exhibition at the Wyvern Theatre, Swindon entitled 'Heart of Chalk'
1996 Visited Copenhagen Kunst Museum to research and study the work of the 19th Century Scandinavian artists.
1996 One man show at Langmoor Manor, Dorset. 
1996 invitation to exhibit at the Norwood Ravenscroft Exhibition at Art Connoisseur Gallery, London.
1996 Art exhibition at the Bell Cliff Gallery at Lyme Regis, Dorset.
1993 Employed as the cartoonist and illustrator for the Richard Watson column in 'Personal Success Magazine'
1993  Commissioned to create several versions of Van Gogh's 'Sunflowers' for the Mirror News Group entitled 'The Van Gogh Factory'.
1993 Underwent a research programme in the Dordogne to study Palaeolithic Art. 
1993 Commission for an art reproduction of a Renoir painting (via the agency of Sir Charles Bloomfield)
1992 Research into the work of the Canadian 'Group of Seven' Collingwood, Ontario. Studied with and curated an art exhibition at John McCombe Reynolds studio in Toronto, Ontario. 
1991 Film for Sky Television, entitled the 'Louvre in the Terrace' where Stephen produced paintings to dominate the walls of a Victorian terraced house as if it was a public art gallery.
1991 Art exhibition at 'L'attitude' in Geneva.
1990 Sponsored by arts materials company, Rexel Derwent, to give a series of lectures on painting and drawing to Heads of Art colleges nationwide. The company later offered an original Stephen Lewis Gilmore pastel work as the first prize in an art competition. 
1991 One Man show at the Alpine Gallery, Mayfair, London.
1989 One man show at St Martins Gallery, Trafalgar Square, London.
1986 A mural commissioned for the Designers Gallery, was unveiled by the Mayor of Thamesdown.
1985 Amicon Wright of Stroud, Gloucestershire – commissioned to produce thirty cartoon portraits of Amicon's staff.
1984 The Royal Institute of Painters in Oil at the Mall Galleries in London. Stephen Lewis Gilmore was the first artist to have an acrylic painting accepted into an exhibition of painters in oil. Dame Peggy Ashcroft remarked very favourably.
1984 invited to exhibit at the Enterprise Gallery Newbury, Berks.
1984 `Gallery 46` in Highworth, Wiltshire, displayed work at the `Country Life` art exhibition.
1984 Wiltshire Conservation Art exhibition at the Wyvern Theatre, Swindon – Stephen Lewis Gilmore was voted best in show by conservationist Dr David Bellamy. Dr Bellamy was influenced to paint after looking at Stephen's work.
1984 Art portrait commission of actress Diana Dors, auctioned by the BBC for Children in Need; the first time a painting was auctioned on air at the BBC.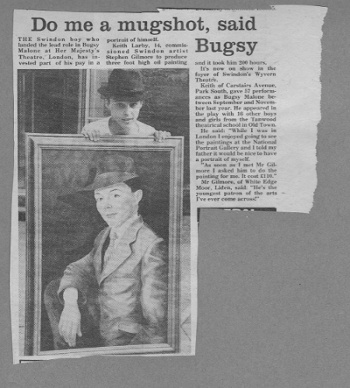 1984 Art portrait commission of the lead actor from West End hit 'Bugsy Malone'
1982 Andras Kalman director of the Crane Kalman Gallery London stated that Stephen has 'an unusual and very original vision and is definitely an artist to watch'.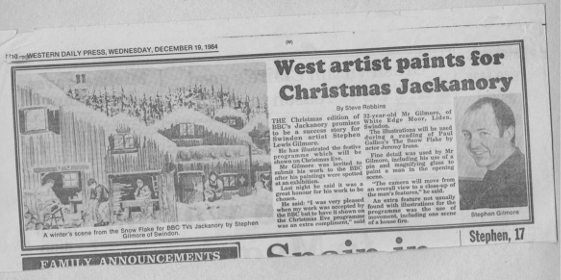 1982 Art commission by the BBC to illustrate Paul Gallico's book 'The Little Snowflake' for Children's programme Jackanory, narrated by Jeremy Irons.
1981 Prize-winner at Wessex Artists' Exhibition Southampton Civic Centre Art Gallery – voted one of the top three artists in Wessex.
Click through to contact Stephen Lewis Gilmore with your question or your original art commission.